Plaza Area Design - Memorial Monument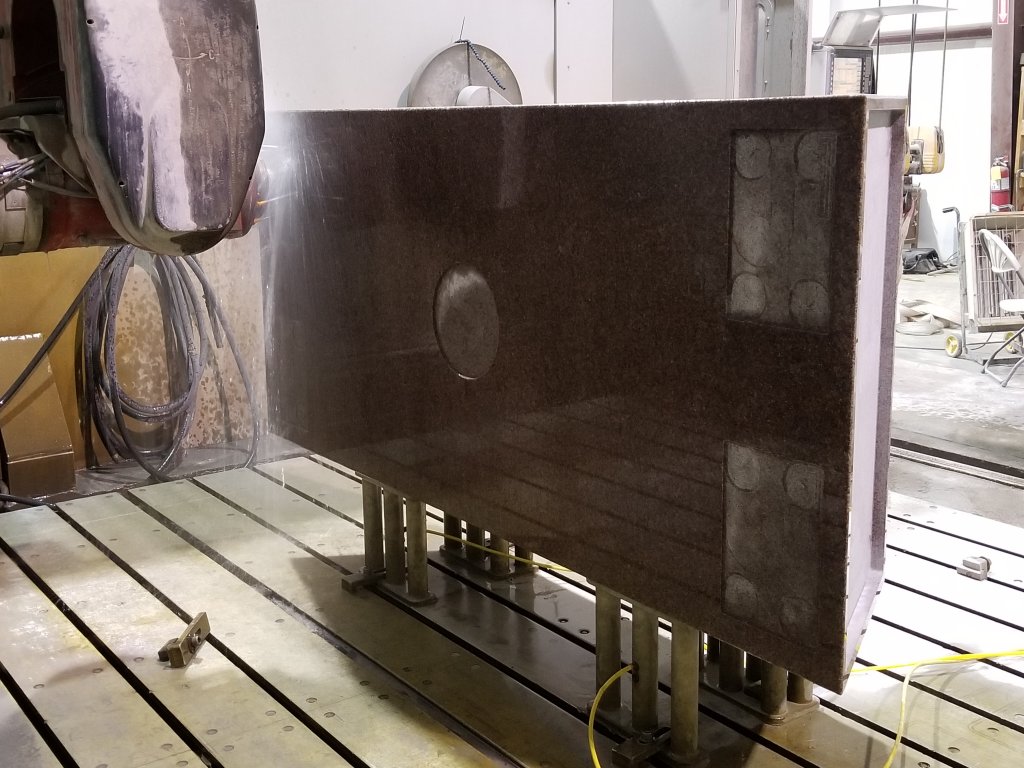 The memorial monument will be constructed of North American Pink granite and placed on a colored textured concrete pad.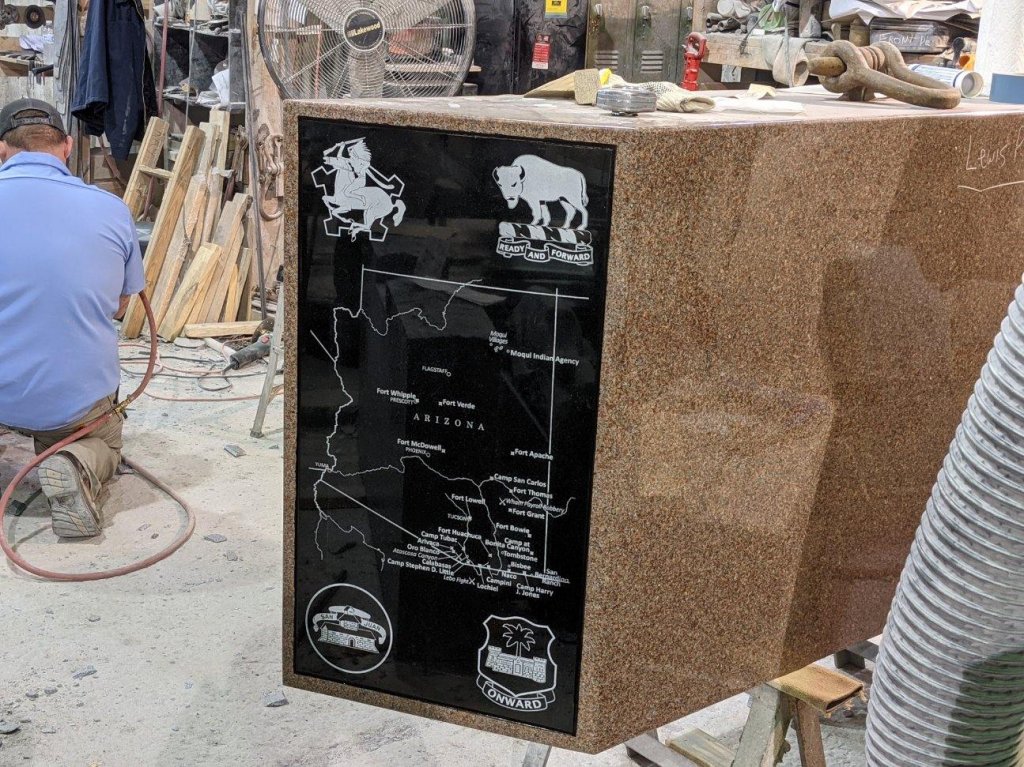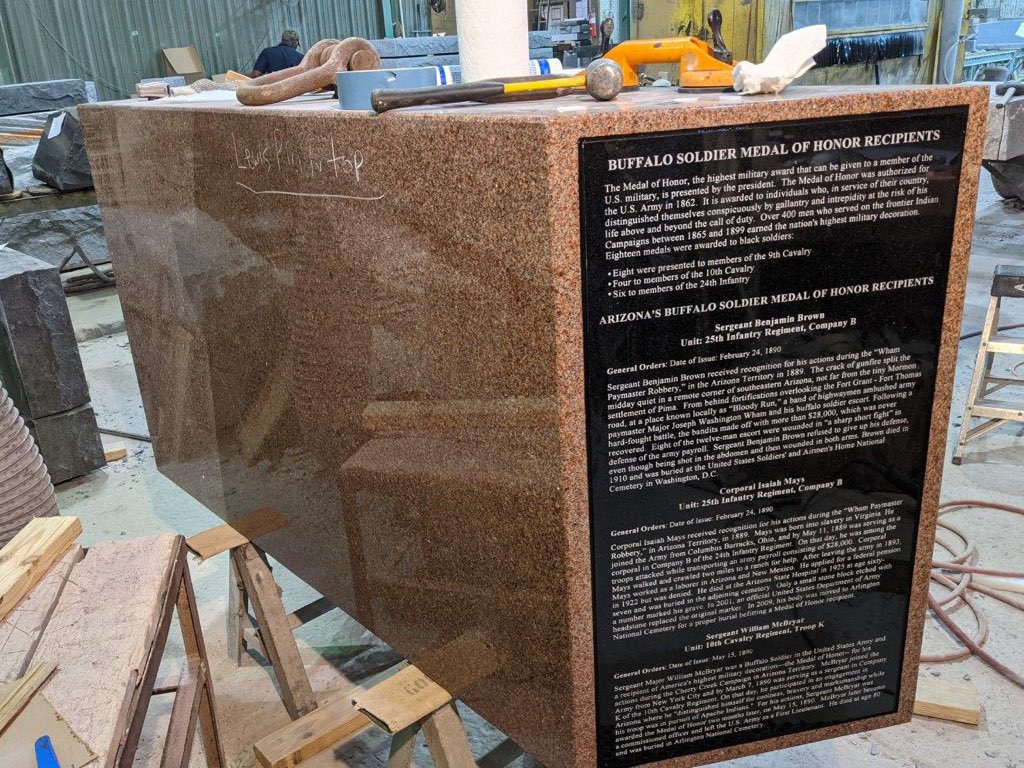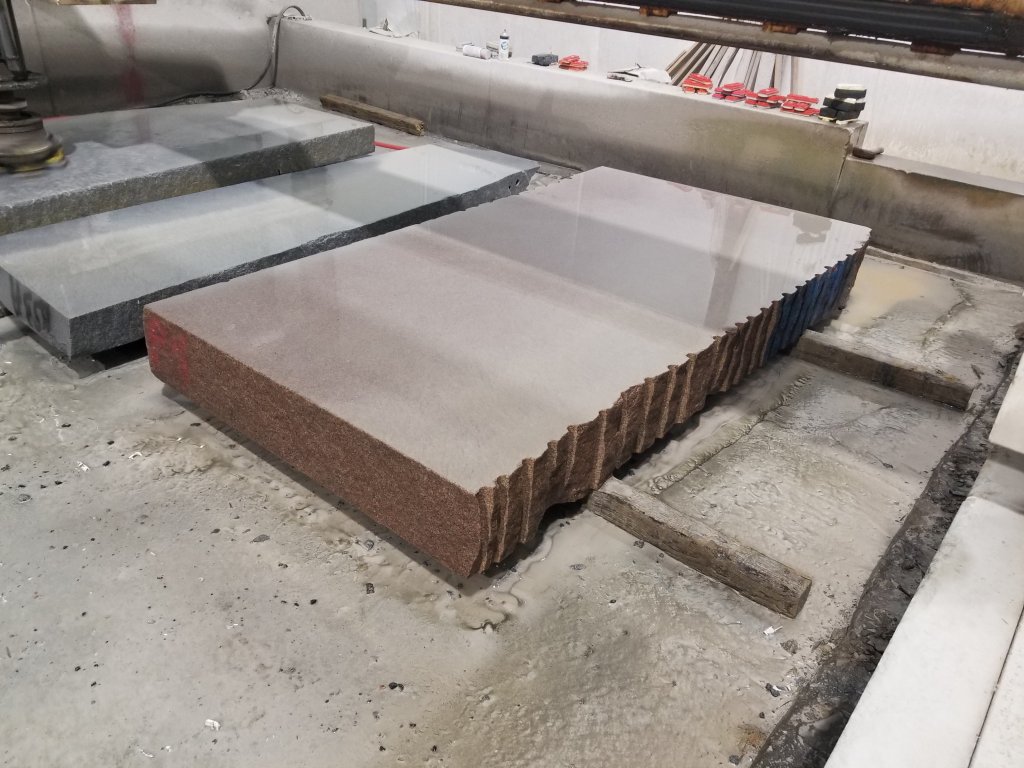 ​​​​​​​The choice of North American Pink is conducive to the "high temperature summer" environment. The shape of the monument is trapezoid. The monument design lends itself to telling the history of the Buffalo Soldiers. The memorial monument has three pieces:
1. The foundation base will be used to provide stability
2. The middle granite piece will provide the public with a short Buffalo Soldiers abbreviated historical overview on the
front,
identify the four Army units known as the Buffalo Soldiers on the back, show the Arizona locations where these soldiers
served on one side and identify the Buffalo Soldier who earned
the Medal of Honor in Arizona on the other side.
3. The top granite block piece will identify the name of the memorial, the "Tucson Community Buffalo Soldiers Memorial." The GSAAC and 9th and 10th (Horse) Calvary National Association logos will be place on each side. On the back of the top piece will show the inscription by Frederick Douglas.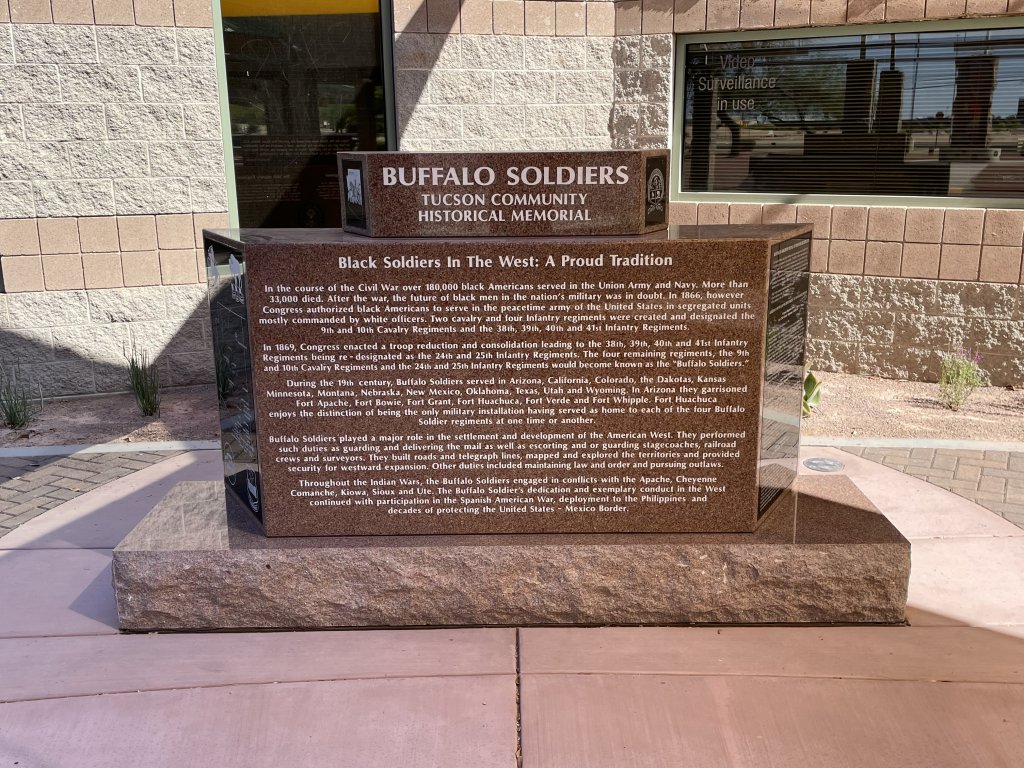 Black Soldiers In The West:
A Proud Tradition
During the Civil War over 180,000 Black Americans served in the Union Army and Navy. More than 33,000 died. After the war, the future of black men in the nation's military was in doubt. In 1866, however, Congress authorized black Americans to serve in the peacetime army of the United States in segregated units mostly commanded by white officers. Two cavalry and four infantry regiments were created and designated the 9th and 10th Cavalry Regiments and the 38th, 39th, 40th and 41st Infantry Regiments.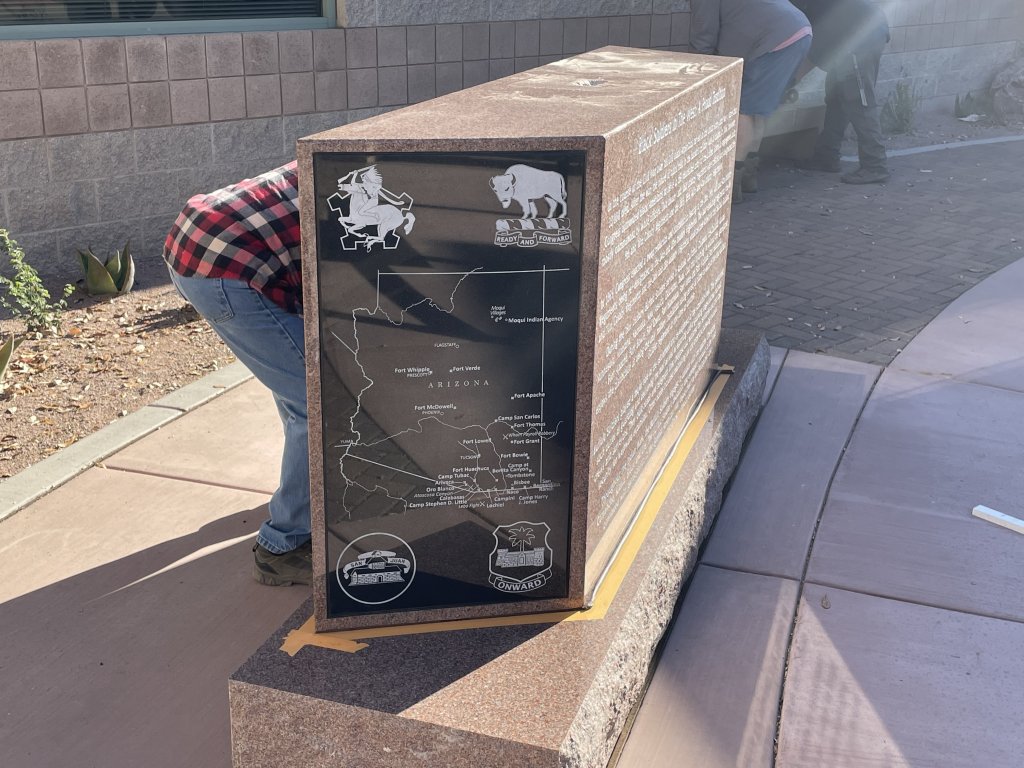 Arizona Map Side (Where They Served): Inlay of map of Arizona identifying the Forts/Camps where the Buffalo Soldier units served along with significant sites of Buffalo Soldiers events. The four Buffalo Soldiers regiments coat of arms will be prominently displayed as shown below.
Also, all four regimental units (9th and 10th Calvary and the 24th and 25th Infantry) were garrisoned at Fort Huachuca, AZ at one time or another. Fort Huachuca is the only military installation to have this distinction.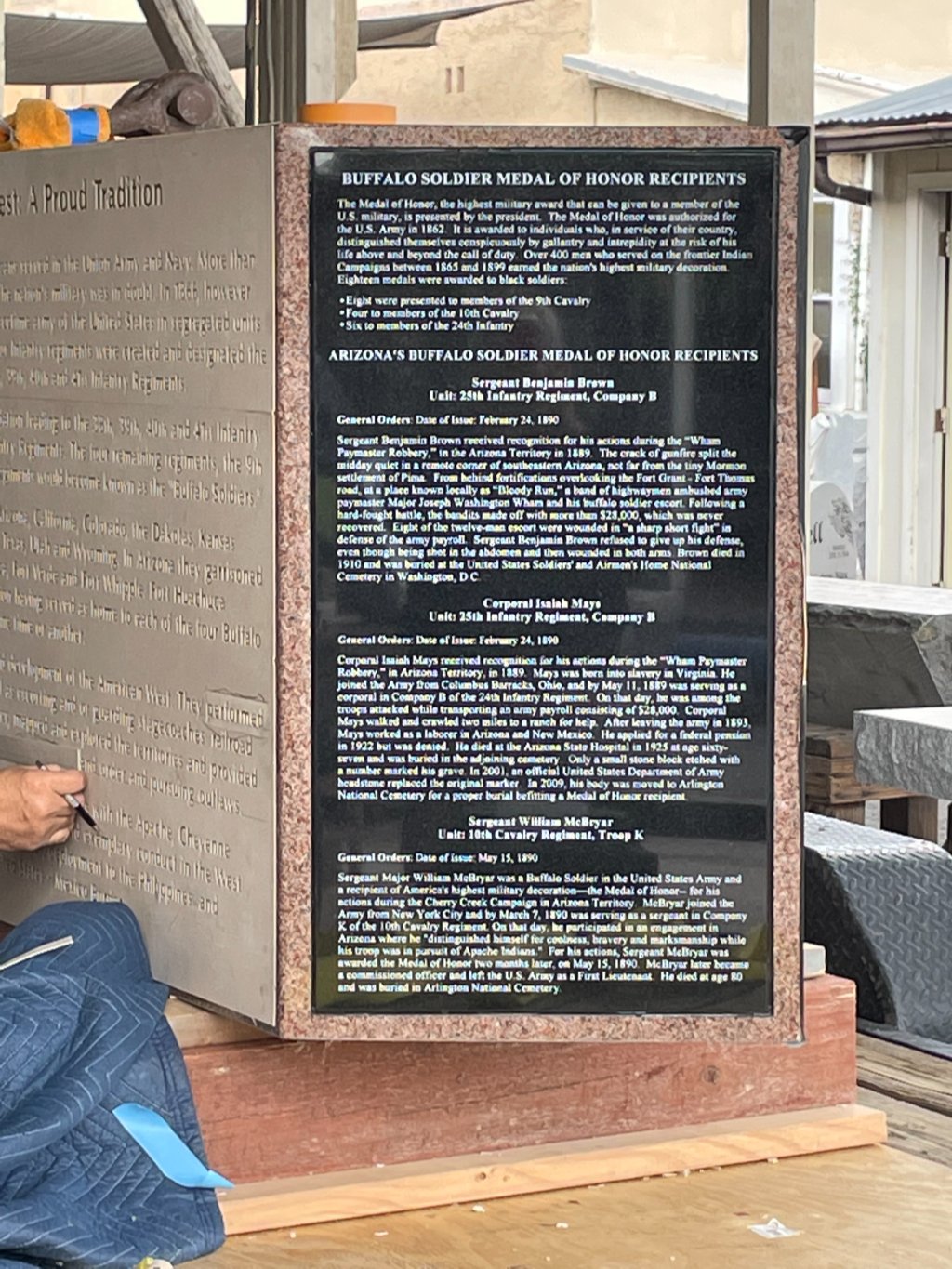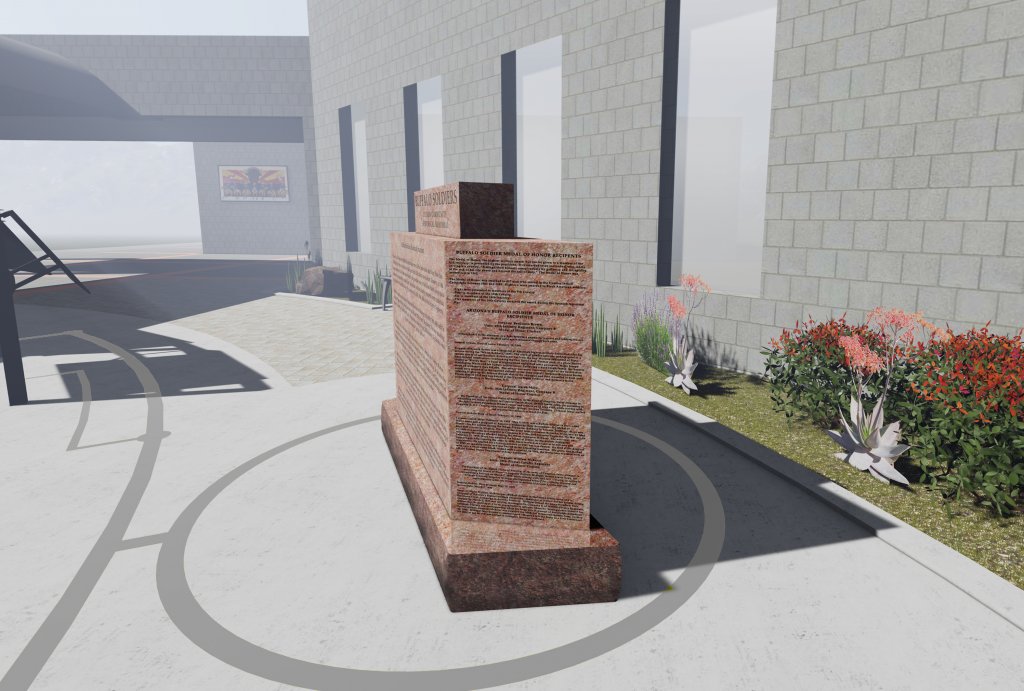 Arizona Medal of Honor Recipients Side: Medal of Honor (MOH) historical introduction followed by short biographical overviews of the three Buffalo Soldiers who earned the MOH in AZ and the actions that led to the MOH award.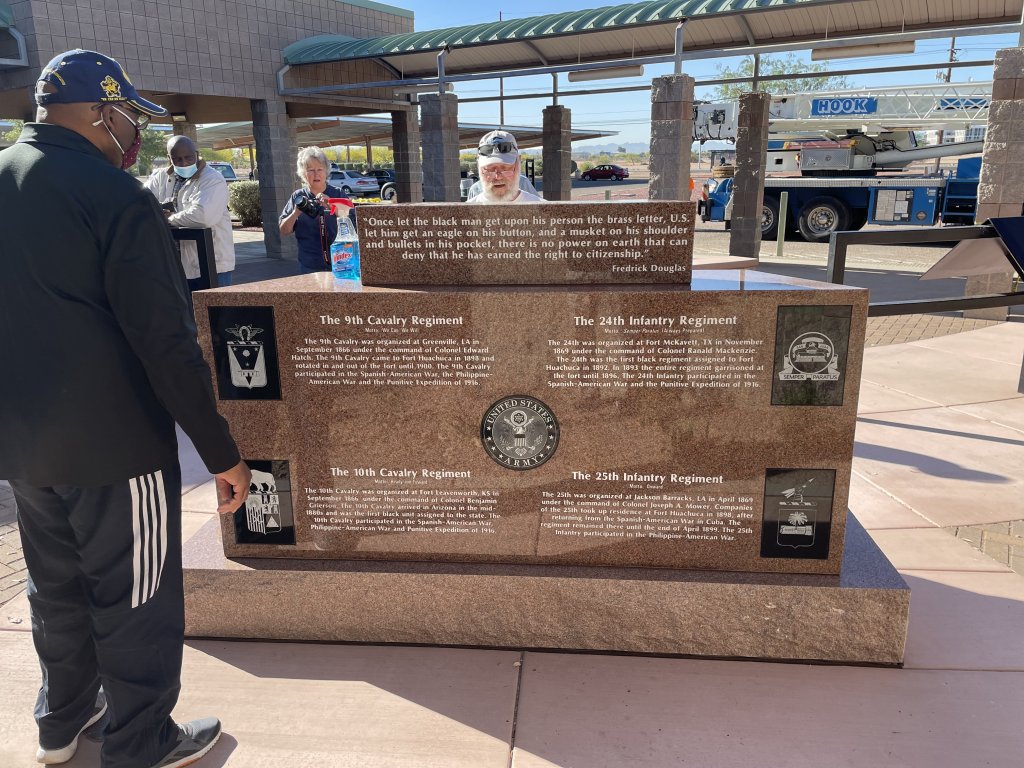 Back facing - Brief historical highlights of the 9th and 10th Calvaries and the 24th and 25th Infanties including their unit insignas.