About Quincie Douglas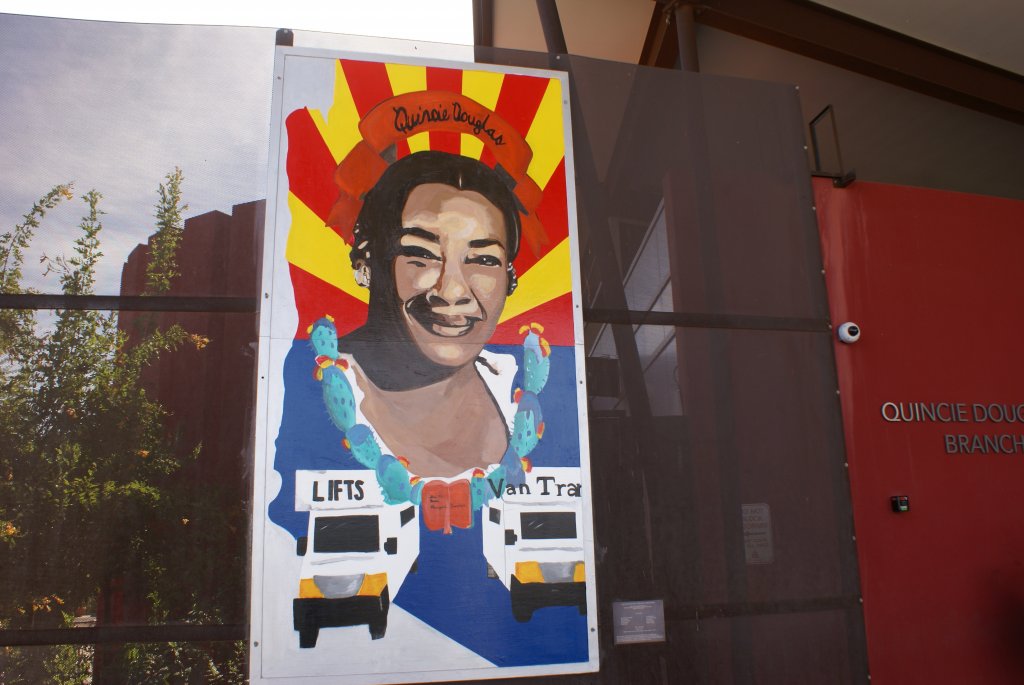 Quincie Bell (Sims) Douglas was born in Chikasha, Oklahomea, Indian Territory, on January 12, 1905. She was the third of nine children born to Bessie and William Sims. She was of African-Seminole descent. Because of her cultural background, she understood words from dialects of both ancestral backgrounds, but she was most effective in her own vocal specialty: "Straight Talk!"
Ms. Douglas moved to Tucson in 1933 with a family from Oklahoma while working as a maid. In March 1934, she met and married Angelo Douglas. She worked as a domestic until 1964, when she was forced to retire after suffering a stroke. Because she did not drive, she had to rely on others to take her places; this limitation did not sit well with her independent nature and was a catalyst for her campaign to help other homebound individuals.
While she was active in the Model Cities in 1970, she spearheaded a move to provide free transportation for low-income, ill, elderly and job-seeking younger people. The result was a $30,000 "seed money" grant from the Tucson Committee for Economic Opportunity to launch the LIFTS (Low-Income Free Transportation Service) program. In subsequent years, the committee provided $40,000 annual support for the program, and LIFTS evolved into today's VanTran program. Mrs. Douglas died August 14, 1986.
Just as Ms. Quincie Douglas made great contributions to the city of Tucson, the Buffalo Soldiers made important contributions in settling Southern Arizona and the Western United States. The Quincie Douglas Neighborhood Center would be a very fitting site for this project.
Source: Most of the information used in Ms. Douglas' bio is from a Nov 19, 2005 Tucson Citizen article by Paul Allen.